Spread is from ESPN. Scores generated are from A.W. Patterson along with the teams underlined are his model's picks. It's worth noting that these predicted scores are assuming all questionable injuries play. If some of the questionable injuries don't play, that could adjust the scores.
THURSDAY

VS
JC: Light test for the Rams to see if the pieces they have are legit for the future.
Kosher: Rams need to beat their division rivals
SUNDAY

VS
JC: Ravens seem to be on a vibe, thinking about the playoffs. Jags in the UK tho

Kosher: Look for Ravens and that defense
VS
JC: Big Ben keep rolling 

Kosher: Bears about to get lit up
VS
JC: Bills can't get no easy games at all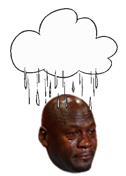 Kosher: Broncos about to get in that
VS
JC: Aints are back 

Kosher: Who knows if Cam 100 so look for Saints
VS

JC: Last time the Bucs played the Vikings, I dropped that bet and Anthony Barr scored on a fumble return to win the game. I'm not saying nothing 
Kosher: Good test for both teams. If Bradford injured I got Bucs.
VS 
JC: The people in the stands lose this game. Waiting for brighter days like 

Kosher: Colts should win but who knows
VS
JC: WE FLY LOW, NO LIE. YOU KNOW IT! TANKING! 

Kosher: Jets just want to sim the season already
VS
JC: Texans 
Kosher: Brady and the Patriots
VS
JC: My new approach. Falcons win 

Kosher: Lions get this done. Won't pick against them.
VS
JC: Home team wins 
Kosher: Giants stink
VS
JC: Big test for the Titans. These are the games a playoff team wins and the Sea offense is triddash.
Kosher: Look for Titans to do big things
VS
JC: KC looking too dangerous. Chargers crowd looking like the rec league.
Kosher: Close game, Chiefs win.
VS
JC: Coach Lewis singing "I go, you gotta go". Packers win.
Kosher: Bengals can't get any offense going. Packers
VS
JC:  
Kosher: Raiders easy money
MONDAY

VS
JC: True test for both teams to see who truly are the biggest frauds. Carson Palmer is done 

but is Dak just a one hit wonder… 
Kosher: Will Dak bounce back? Cardinals if Palmer stays turnover free.